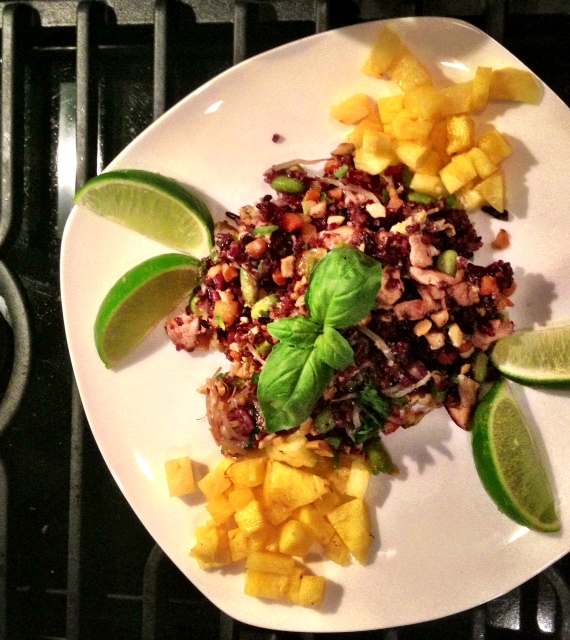 What in the world…purple rice?  PINEAPPLE purple fried rice. Are my recipes getting too weird for you guys? I hope not, because this is seriously one of my favorite dishes I've ever cooked. SO ADDICTING. Thai fried rice is really different from traditional soy sauce seasoned fried rice and it's a refreshing switch up. You don't need to use purple rice, but if you can find it in your store then definitely DO.
I loaded this dish with veggies, chicken, and good stuff. Think carrots, scallions, edamame, bean sprouts, peanuts, basil, jalapeño, and pineapple. Then, to top it off, you use coconut milk and fish sauce for even more flavor. Oh…and purple rice. Make this dish now! I beg you.
How was your weekend? I spent mine with family (Mom and sister are in town) out and about around South Beach drinking mojitos and eating lots of great food. Hope you had a fabulous weekend as well.
Thai Chicken & Pineapple Purple Fried Rice
Ingredients
3 tablespoons vegetable oil
1/2 cup slice scallions, greens included
2 carrots (or a cup of baby carrots), diced small
2 cups bean sprouts
3/4 cup frozen edamame beans
12 ounces boneless skinless chicken breast, diced small
1 1/2 cups pineapple, diced small
1 tablespoon, minced garlic
3-4 cups cooked rice (I used Thai Purple Sticky Rice), cooked ahead of time and chill if time allows
2 eggs
1/2 cup coconut milk, add more to taste
2 tablespoons nam pla (fish sauce), add more to taste
salt, black pepper, and garlic powder, to taste
1/4 cup chopped peanuts
1/2 cup fresh basil, thai if you can find it
1 or more small fresh hot green chiles, I used 1 jalapeno, seeded and diced tiny
lime wedges
Instructions
Put 1 tablespoon of the oil in a large skillet over high heat. When it's hot, add the scallions, carrot, edamame, and bean sprouts and cook, stirring occasionally, until they soften and begin to brown, 3 to 5 minutes. Lower the heat if the mixture starts to burn. Transfer the vegetables to a bowl with a slotted spoon.
Add another tablespoon of the oil to the pan, followed by the chicken pieces. Season with a few pinches of salt, pepper, and garlic powder. Cook, stirring occasionally, over high heat until the chicken is no longer pink, 3 to 5 minutes. Add the pineapple and cook for another 3-4 minutes. Combine the chicken vegetables and remove from the heat.
In a separate (Large pan) put the remaining 1 tablespoon oil in the skillet on high heat, followed by the garlic. About 15 seconds later, begin to add the rice, a bit at a time, breaking up any clumps with your fingers and stirring it into the oil. When all the rice is added, make a well in its center and break the eggs into it; scramble it a bit, then incorporate it into the rice.
Return the chicken and vegetables to the rice pan and stir to integrate. Add the coconut milk and cook, stirring, until most of the liquid has boiled off, just a minute or so. Add the fish sauce, then taste and season with salt and pepper. Turn off the heat and stir in the peanuts, basil, and chiles/jalapeno. Serve with the lime wedges.
Notes
adapted from The Food Matters Cookbook by Mark Bittman using the recipe "Spicy Fried Rice with Bean Sprouts, Chicken, and Peanuts" page 322
http://keelymarie.com/2013/06/09/thai-chicken-pineapple-purple-fried-rice/
Head over to the Food Matters Project blog to see what recipes the other members cooked up, inspired by Mark Bittman's Spicy Fried Rice recipe from the Food Matters Cookbook. It was my week hosting so I picked this recipe, so happy it was a winner! Can't wait to make it again. (The leftover went fast)
Like this post? Don't forget to like my facebook page or subscribe via email for weekly updates and posts!